---

During late 50's Britain the Youth movement began to be disillusioned with the American following inspired by such stars as Elvis Presley. They longed for their own identity, to be different, and to ultimately shake up the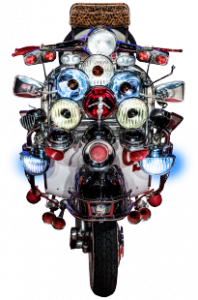 world and be heard. The rockers clad in their all leather motorbike gear who took their inspiration from the American teddy boy scene with their greased back hair, came to be dispised by Mods, who took a far greater care in their appearance.  It is ironic that the music which was adopted by the Mods was from the American "Modern Jazz" scene. The Modern Jazz music was produced by stars such as trumpeter Miles Davis, saxophonist John Coltrane, and pianist Thelonius Monk. This new music was considered to be non-commercial and the epitome of cool. The fact that Modern Jazz music originated from African Americans helped Mods disregard old racial stigma. To be a Mod depended on your views, what you stood for, how you dressed and what music you listened to. The colour of your skin didn't matter as long as you were Mod. This change in racial understanding and thinking was dramatic when compared to how previous generations had thought and indeed
really was a 'modern' concept. Many of the early Mods were Jewish youths whose parents had come to settle in London after the war. These Jewish immigrants were excellent tailors who took great care in their appearance and that of their families. Jewish youths therefore wore tailored suits made out of fine materials such as mohair. This stylish well presented look was the complete opposite to how the Rockers presented themselves and was quickly adopted by the Mod scene.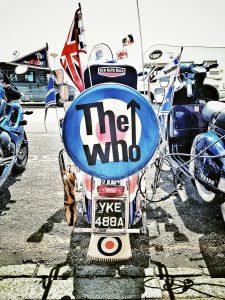 During early 60's Britain the Mod youth movement began to gain momentum and exploded in 1963/64. The famous 1979 film Quadrophen
ia which was produced by the Who is indeed set in 1964.  The film helped inspire thousands of more youths to the Mod culture movement and gave the movement international recognition. Even today the Mod movement remains strong in countries such as Germany, USA, Japan and of course the UK. It is a youth subculture which shows no signs of letting up with its clothing influences continuing to be popular amongst fashion conscious followers.
Mod is a youth subculture movement which originated in Britain and it continues to play a prominent role in ma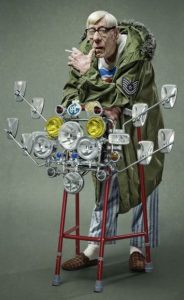 ny lives throughout the world. Mod makes me proud to be British and is the most stylish youth subculture movement ever to grace the planet. Long may it continue………
---
Read more
---