---
Tagged as: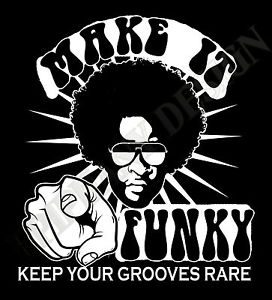 Early Funk
"The Godfather of Soul," James Brown, for all intents and purposes was Funk for most of the 1960s. He was largely responsible for both the name Funk and its popularity in that decade. (Some attribute the name to drummer Earl Palmer.) Although Brown was already developing his unique style in the late 1950s, while moving away from straight R&B, it wasn't until 1963 that the first arguably Funk hit album landed on the charts: "James Brown Live at the Apollo."
The hallmarks of Brown's new style were use of Blues and R&B progressions, extensive syncopation, especially "displaced" drum beats which strayed from the snare drum's traditional backbeats on "2" and "4," and extensive use of horns in a percussive manner ("horn punches"). All of this lent itself to the descriptive term, "funky."
Early Funk basically covers the period between its origination by James Brown in the late 1950s and early 1960s and his stylistic shift away from progression-oriented songs and into one-and-two-chord vamp-oriented songs (Later Funk) in the late 1960s. "Cold Sweat" (1967) and "Say It Loud, I'm Black and I'm Proud" (1968), are landmarks in Brown's shift in styles.
Later Funk
Later Funk came in on James Brown's coattails in the late 1960s and early 1970s. In that period, as rhythm became an even more important component of Funk, songs often used only one chord. Eliminating chord changes enabled Funk musicians to use more syncopation, often in the familiar two-part pattern. In this period, syncopation expanded from eighth-note syncopation to sixteenth-note syncopation. In addition, the tempo was often slower than in Early Funk.
All of these factors contributed to bass lines emerging as the "hooks" of songs. Tunes such as "People Say" by the Meters, "Chameleon," (written by bassist Paul Jackson, Bennie Maupin, Harvey Mason and Herbie Hancock), and "Cold Sweat" by James Brown, emphasize offbeat eighth and sixteenth notes. Generally, the faster the song, the more the bass groove relied on eighth notes, while the slower the song, the more the bass groove relied on sixteenth notes.
---
Read more
---