---
The First Presleyterian Church of Elvis the Divine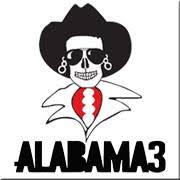 The band formed when Jake Black met Rob Spragg at an acid house party in Peckham and they decided that a fusion of country music with acid house was a musical possibility. Other members of the band were added over time. Rob Spragg was at university with Piers Marsh, the harmonica player and synthesiser programmer for the band, while Orlando Harrison, the group's current keyboardist, used to live with Jake Black. Prior to the formation of Alabama 3, and following the demise of The Jangletties, Black generated little or no recorded output for several years.
Starting their act under the alias the First Presleyterian Church of Elvis the Divine (UK), the group eventually switched names to Alabama 3 and, after having been dismissed by the mainstream media as a novelty act, signed with One Little Indian Records in 1997 for the release of its debut album, Exile on Coldharbour Lane.
In August 2007, the group toured under the name of Alabama 3: Acoustic and Unplugged, with Harpo Strangelove and Devlin Love, to promote its new album MOR (released 10 September 2007). Bassist John "Segs" Jennings left the band, saying he was "busy elsewhere and [he doesn't] have the time." The band's sixth studio album, M.O.R. included a cover of Jerry Reed's 1970s hit "Amos Moses" and features The Proclaimers on the track "Sweet Joy" plus piano parts on the country stomp version of the Gil Scott Heron song "The Klan", written by Heron and Brian Jackson. In September and October 2007, the band toured the UK in support of M.O.R. with Irish band Republic of Loose supporting.
Having recorded and toured with the band in the early days, Aurora Dawn rejoined the band in 2009. Between late 2010 and early 2011, programmer, harmonicist, and founding member Piers Marsh left the band.
---
Read more
---