---
Lloyd Parks to wheel and come again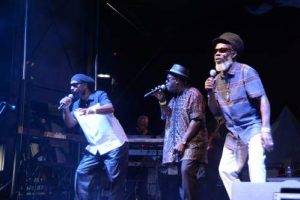 BAND leader Lloyd Parks says he will be using the experience gained from last Saturday's inaugural Genuine Gold Presents concert to fine-tune the series' next staging in January 2020.
Genuine Gold Presents was held at Mas Camp in St Andrew and marked Park's We The People Band's 44th anniversary.
"We will be hosting another one next year that promises to be much better,
Parks said he did not get the turnout he would have liked and attributed it to inadequate advertising.
"We could have gotten a better turnout if it had been advertised more," he said. "However, there was a financial strain and I was not able to confirm some of the young artistes like Tarrus Riley and Romain Virgo."
Despite the shortfall in numbers, the concert saw top-notch performances.
The evening's highlights included Gem Myers' rendition of Jennifer Holliday's theme from Dreamgirls; a spiritual and deeply personal performance from Judy Mowatt; an early-morning dancehall class from Stitchie; a classy set by Richie Stephens; and proof that Luciano remains reggae's ultimate showman.
George Nooks, Noddy Virtue, Tinga Stewart, U Roy, Little John, Half Pint, Horace Andy, Big Youth, The Mighty Diamonds, Pinchers, and Johnny Clarke all gave worthy performances.
Parks has been We The People's backbone since 1975.
Before forming We The People Band, he also played in the RHT Invincibles and Skin, Flesh and Bones bands, alongside keyboardist Ansell Collins and drummer Sly Dunbar. He was an early member of The Revolutionaries, which became world-famous as the house band at Channel One, Gibbs' arch-rival studio during the 1970s.
Parks has also had success as a singer with Slaving, Officially and Reservations For Two.
---