---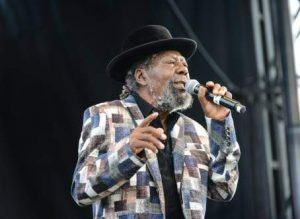 ONE of the first deejays to break out of the dancehall onto radio, U Roy has earned his status as a reggae legend. Still touring and recording, he helped groom numerous toasters through the Stur Gav sound system he started in the early 1970s.
Tomorrow, 76-year-old U Roy performs on Genuine Gold Presents, a show celebrating the 44th anniversary of Lloyd Parks and We The People Band, at Mas Camp in St Andrew. Recently, he told the our man in jamaica  that his dreams were not that lofty when he started his career over 50 years ago.
"I used to hear 'bout all these places…Japan, England, France, and I wanted to see dem. Through di music I si dem places many times, so mi haffi give Jah di blessings," he said.
Classics like Wake The Town, Wear You to The Ball and Tom Drunk (done with Hopeton Lewis) have given U Roy a faithful following in Europe, Japan and United States. Over the years, he has kept in tune with the evolution of the dancehall deejay; here are his thoughts on some of them.
Capleton: "Very cultural, spiritual. Him very aggressive wid what him sey. Him remind mi a myself as a youth…him nuh tek nuh chat."
Sizzla: "Him bus' when mi live a California. Him comfortable pon any riddim. Him nuh ordinary."
Big Youth: "A cultural man wha' neva chat any negative stuff. Yuh can keep a show wid Jah Youth an' carry yuh mother an' grandmother."
Josey Wales: "Rough inna him ting. When yuh hear a song like Leggo mi Hand Gateman, a so him feel."
Charlie Chaplin: "A mi boss! A youth wid progressive ways, very ambitious. If Charlie tell yuh sey him a go a di sky, him a do it."
Hugh Brown: "Soun' like mi, so mi haffi big him up fi dat. Dat show respect fi an individual an' a elder."
Bounty Killer and Beenie Man: "When di music change, yuh going have a set a youth come wid a different style. Mi always love a deejay wid good timing…Bounty an' Beenie Man dat."
Yellowman: "From wey him a come from to wey him reach, dat alone mek mi have nuff respect fi him."
Big Youth, Tinga Stewart, George Nooks, Richie Stephens, Stitchie, Horace Andy, Johnny Clarke, Ken Boothe, The Mighty Diamonds, Judy Mowatt, Gem Myers, Luciano, Pinchers, and Little John are also scheduled to perform at Genuine Gold Presents.
---